… welcomes collaboration to end oil theft in Niger Delta
His Excellency, Senator Douye Diri, Governor of Bayelsa State today received the Minister of State for Petroleum Resources, Chief Timipre Sylva in Government House, Yenagoa.
The minister, a former Governor of the State led the Chief of Defence Staff, General Lucky Irabor, the Group Managing Director, NNPC, Mele Kyari and others to Bayelsa State to seek collaboration on how to end oil bunkering which has adversely affected the oil revenue.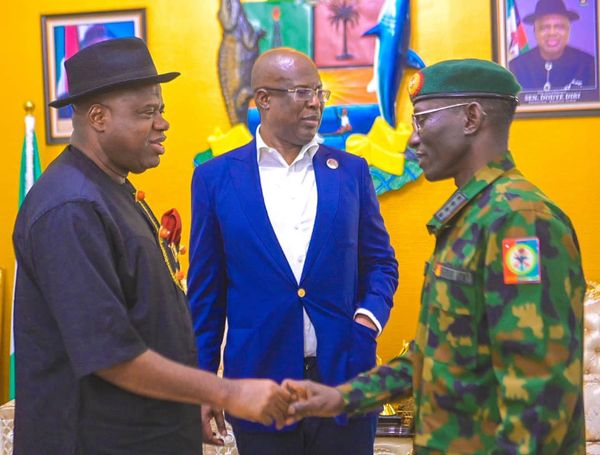 "This discourse didn't start today, I recalled that the CDS had invited us as Governors to Abuja on this same issue and we had a very friendly atmosphere and we all agreed to see how we can storm and stop the menace of oil theft in our region.
And going further, we have also seen a lot of kinetic actions that have been taken by the CDS and as you rightly pointed out, it does not all stop with kinetic actions, I think we need more of this jor and more reasoning so that people will appreciate why we need to stop this.
I know that today would have been a good opportunity to talk about the abandoned facility at Igbogene, I believe that that project will be completed.
Again, on the issues of oil theft, while we look at oil theft and its effects on our economy, the State Government and the Federal Government largely depend on oil, so if there is oil theft, it does not affect only the Federal Government, it affects us as a State Government and the Local Governments and we have carried that message over and over and we will continue to carry it. We are talking about our environment that has been brazenly polluted by the activities of this, particularly, oil bunkerers, if you go to our communities now, you will see oil floating in our rivers, and that has led to the locals not having a source of livelihood. It has led to some unknown diseases and sicknesses, and so, there is a spiral effect of this oil theft that is going on, in this Niger Delta, it affects the communities and the people living there.
So, I welcome you and I assure you that we will collaborate to ensure that this oil theft is brought to an end", Gov. Diri stated.
In attendance at the visit were the Leader of the Bayelsa State House of Assembly, Rt. Hon Monday Edwin Bubou Obolo, the Chairman, House Committee on Security, Hon. Rtd. Col. Bernard Kenebai, the Coordinator, Bayelsa Community Safety Corps (BCSC), Rtd. Gen. Eric Angaye and other top government functionaries