…. Approves water project for Oluasiri Community
"We give God the glory for the peace and unity we have seen in Nembe. This is the 4th LGA we are visiting to inaugurate projects by LGA chairmen. If LGAs are not performing then there is a problem because they are closer to the people.
"And therefore, for us, local government are autonomous entities that have been recognized by the constitution and their functions have been clearly designed for them to perform. Today, we are happy that LGAs in Bayelsa State have started performing and we are here to commission projects".
"As we have noted previously, when we assumed office in 2020, Local Government system was on the verge of collapsing, so, they met with the Deputy Governor and he assured them that he would inform the governor. He did so and from then on we decided to do the needful, we investigated and approved measures to make sure our LGAs do not go down. Interestingly, from then LGAs started performing. As we speak, virtually all the LGAs in Bayelsa now have savings in addition to paying salaries and executing projects".
"As a state, we have been paying gratuities to retirees, with the savings made so far by LGAs we shall soon ensure the payment of gratuities at the LGA level. This is possible because of the prudence of government.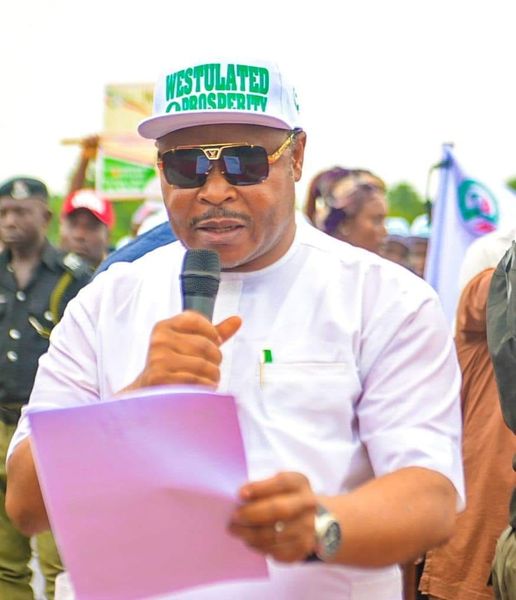 On behalf of Government, let me acknowledge the performing West Alalibo and all the councillors that have supported him. Let me also commend the Speaker who has also strengthened the local government system.
"Let me urge you to continue to support our councils, the state government and our party, the PDP. You can see that we will continue to deliver, the Nembe-Brass road is ongoing and will not stop. We have heard your request and we will get to you."
"For Oluasiri community, the Honourable commissioner for Water Resources is hereby directed to liaise with the council chairman to bring up a memo for my approval for the water project."
…Senator Douye Diri, Governor of Bayelsa State, speaking at the inauguration of some projects embarked on by the chairman of Nembe Local Government Council, Mr. Alalibo West which had in attendance the Deputy Governor, Senator Lawrence Ewhrudjakpo, Speaker of the State House of Assembly, Rt. Hon. Abraham Ingobere and other top government functionaries.