… reinstates continuity in governance
… directs renovation of secondary school in Ekeremor main town, construction of link road into Isampou community
"Today, we are here to Commission, we are not here to mourn, we are here to be happy that our Councils are now performing the duties of Local Government. And listening to him, he did not miss words, about what the previous administration has done, and that is what we owe to continuity in office, just as I acknowledged the former Governor, for what he has done in Ekeremor road and handing over to us to complete, he has also completed a project and other projects that others have started and also initiating his projects in all the twelve Wards in Ekeremor Local Government.
Well, we pray and hope, governance will continue to have a new touch and change to affect the lives of our people who are living in the rural areas. If we have good roads, electricity and good water, we don't need to go to Yenagoa, you can be in Ekeremor and live like every other person in the world.
So, as your government, we continue to do those things that will impact the lives of our brothers and sisters who are living in our communities.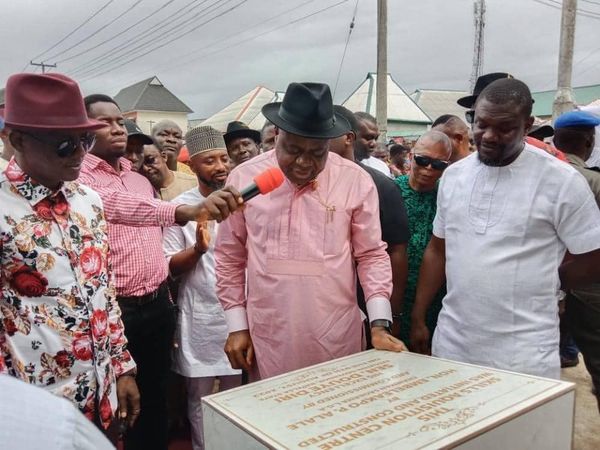 We got reports of some arrears for 2016, I think, the Chairman has cleared that, because of prudence, we have saved money, and those monies are ready for payment. And for Council staff that have retired and you have not gotten your retirement benefit, this administration is very friendly with our elder state men, our retired officers and we have been doing that at the State level but we discovered that the Local Governments had issues, we have commenced the savings of 5mln naira and very soon, we will commence the payment of all gratuities to retired staff of the Local Government Areas.
And as I was coming, I also noticed that the secondary school is threatened by flood and not only is it threatened by flood, the school needs complete renovation.
Commissioner for Education is hereby directed to include Ekeremor Secondary School in our next renovation of SUBEB jobs."
…Senator Douye Diri, Governor of Bayelsa State, speaking at the inauguration of some projects embarked on by the chairman of Ekeremor Local Government Council, Dr. Perekeme Bertola, which had in attendance the Deputy Governor, Senator Lawrence Ewhrudjakpo, Speaker of the State House of Assembly, Rt. Hon. Abraham Ingobere and other top government functionaries.