…appreciates German Government for support
…seeks more partnerships to cushion annual flood, erosion
"Today, we are hosting the German Ambassador to Nigeria and our friend Oliver Stolpe, Country representative of UNODC, so let me on behalf of the government and the people of Bayelsa State welcome you to Bayelsa State.
We identify with what you are coming to do in one of our communities in Bayelsa State called Otuan.
I appreciate you and the Government of Germany for approving funds for the few things you have done to affect the lives of the citizens of this State.
There is a very cordial relationship between our subnational state of Bayelsa and Germany, and I believe that now that you have come, you are going to strengthen that cordial relationship that we have had over the years.
Because of our closeness to the Atlantic Ocean, we have very huge challenges of flood and erosion, which have impacted the lives and properties of our people over the years. It has become an annual occurrence, and even this year we have been warned that it will be more severe than we saw last year, and I believe that that challenge is beyond the scope of the State Government, and so we have been inviting all our friends and friendly governments from both local and international to help us tackle this challenge of flood and erosion on annual basis.
And because of where we are located, we also have issues of maritime security which we have been working on Federal Government and all other Embassies to ensure that Bayelsa is not a safe ground for kidnappings.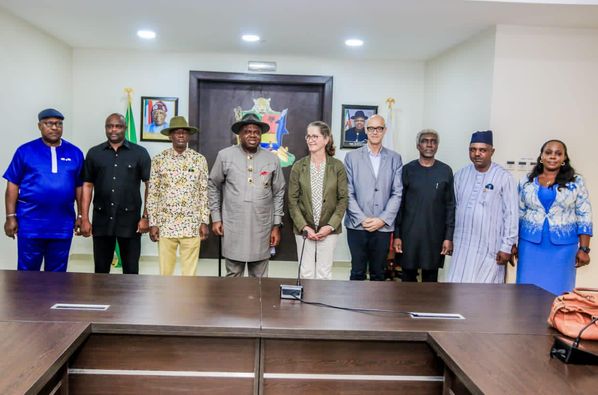 For that reason, we established the Community Safety Corps, and for now, we have dealt with a bit of the land component, and though the maritime sector is always more expensive, we are moving towards procuring security logistics to add to the ones we have been using to tackle that area."
~ Sen. Douye Diri, Governor of Bayelsa State, speaking while hosting the German Ambassador to Nigeria, Her Excellency, Annett Gunenther, and her entourage which included Country representative of UNODC, Oliver Stolpe, at the Governor's Conference Room, Government House, Yenagoa.