…attends 15th memorial of late leader
… Bayelsa Govt takes over annual memorial programme
His Excellency, Senator Douye Diri, Governor of Bayelsa State today graced the 15th memorial programme of late first civilian governor of Old Rivers State, Chief Melford Obiene Okilo, describing him a true nationalist.
"I'm delighted to be personally here in this 15th memorial celebration of our dear leader, a nationalist, a father and a Sage.
Chief Okilo was beyond Ogbia and Bayelsa State, but he was a nationalist, therefore, he should be celebrated as one. He was part of the people who worked for the creation of the Old Rivers State, and subsequently, Bayelsa State.
The likes of Chief Okilo struggled and abandoned their own comfort for the rest of us, and that is why today, we can call ourselves Governors, Senators, House of Assembly members, and anything that we can call ourselves today.
Subsequently, I hereby direct that the Chief Melford Okilo memorial will be taken over by the Bayelsa State Government. We shall not trivialize the immortalization of our leader to a Clan, and we all know, Chief Okilo belongs to all the clans in Ijaw.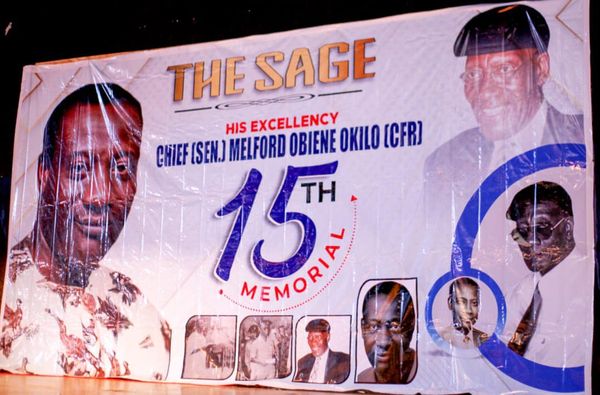 Chief Melford Okilo was one who exuded love for his people. He worked and suffered for his people, and fought against injustice.
Let us as a people and as leaders, always do things that will unite our people, and not to divide us, and things that our people will remember you for even after you have left. Today, we are talking about Chief Melford Okilo because of things that he has done, and not the amount of money that he left in his bank account.
Today, we are gathered here because we remember that Chief Okilo added value to our lives", Governor Diri stated.
Other dignitaries at the Gabriel Okara Cultural Centre, venue of the memorial include immediate past Deputy Governor, Rtd. Rear Admiral Gboribiogha John Jonah, King Alfred Papapreye Diete-Spiff, former Military Governor of Old Rivers State, Senator Foster Ogola, Senator Barigha Nimi-Amange, political associates and family members.