Bayelsa State commissioner for Information, Orientation and Strategy, Hon. Ayiba Duba has extoled Civil Servants in the state for their productivity and positive impacts on Government Policies and Programs, self-improvement and creativity.
Hon. Duba made the commendation at Dr. Sophia Obi's Triple book launch on Thursday July 21, 2022 at Azaiki Public Library, Imgbi road in Yenagoa.
The commissioner who noted that for excellent performance of staff in government establishments, all political appointees in the state should strive to work with Civil Servants in their various Ministries to achieve set goals, emphasizing that the state's owned Ministries are blessed with goal getters and competent human resources.
Commending the literary prowess of Dr. Sophia Obi, who is the Director, New Media Department in the Ministry of Information…, the Commissioner stated that the Author is a team player who delivers professionally on her job, adding that Dr. Obi is a blessing to the world of Art and her works will continue to improve the quality of lives and learning in schools.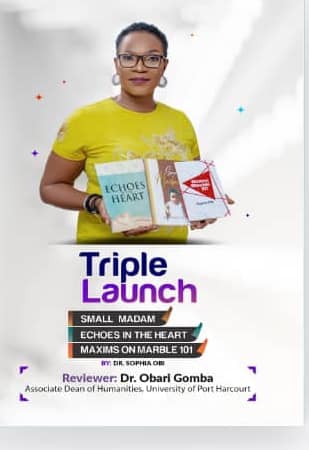 Earlier, the chairman of the occasion, Chief. Lambert Ototo who is the Chairman Local Government Service Commission in the state, noted that creativity is a major drive-in life and that Arts and literary pieces paint vivid pictures of the world at large.
Also speaking, Dr. Obari Gomba the book reviewer, said that it takes a lot of courage to write in these times, adding that the Author's collection of stories and poems dwell on humanity as the works have the prominence of communal existence, loving and celebrating each other.
Dr. Gomba further explained that the ability to experience time and place through the beauty of Arts cannot be overemphasized, noting that the theme of some poems dwell mostly on Niger Delta which subject matter is more on the struggles of the region, adding that the predominant themes of the works cut across love and gratitude to God.
The books launched include; Small Madam (prose), Echoes in the Heart (poetry) and Maxims on Marble 101(inspirational quotes).
Present at the occasion were the Permanent Secretary Mrs. Jane Help Yawei, directors of the Ministry of Information, Orientation and Strategy, Chief Freston Akpo the immediate past Permanent Secretary of the Ministry of information, Orientation and Strategy, Dr. Kola Oredipe, DG to the Governor on New Media, amongst others.