…as Gov. Diri asks them to resume in their former ministries
… Inaugurates Odudu Awipi as LG Service Commissioner
His Excellency, Senator Douye Diri, Governor of Bayelsa State today at the 82nd State Executive Council Meeting, reinstated two former Commissioners back to their portfolios after their resignation to contest the last primary election for the State House of Assembly tickets.
The Commissioners are: Grace Ekiotene, Commissioner for Transport and Mr. Stanley Braboke, Commissioner for Labour, Employment and Productivity.
Barr. Odudu Awipi, also took oath of office as Commissioner in the Local Government Service Commission.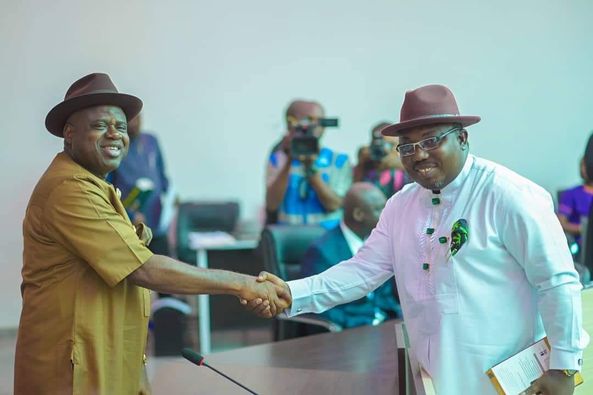 "It is very rare to find a government that people will willingly resign and at the end of the day, the government still accommodate them. This is because we are one people, we are a family, there are bound to be disagreements within the family, and after those disagreements, we disagree to agree, and I am happy, we have today sworn in two brand new members of the State Executive Council. You are welcome, you already have my charge before, and the same charge I gave to you still stands. And that follows that, you are not reassigned, but you are assigned again to your previous portfolios.
Try and forge unity and oneness in the system, we all know that politics is a game of interest, and when your interest some times is not accomodated, be patient, at God's own time, it will certainly fly. So, let me on behalf of your colleagues, welcome you back and play as a team the way we have been working together and ensure that at the end of the day, the development of our State is not compromised and at the end of the day, the policies of this government are all achieved. I welcome you, go back to your bits and continue to perform for the success of this administration and the development of our State", Gov. Diri stated.