Bayelsa State Governor, Senator Douye Diri, has showered encomiums on his Rivers counterpart, Chief Nyesom Wike, saying he he has simplified governance in a way that his administration has positively impacted the people.
Governor Diri stated this on Wednesday when he inaugurated the 3.5km Mgbuoshimini-Nkpor road in Rumuolumeni, Obio/Akpor Local Government Area of Rivers State.
The Bayelsa governor noted that the importance of roads cannot be over-emphasised as they impact on the socio-economic life of the people.
A statement by his Chief Press Secretary, Mr. Daniel Alabrah, quoted Governor Diri as saying that Wike simplified governance through his infrastructure revolution.
The said the Rivers governor would leave big shoes for his successor to fill.
Diri stated that having grown up in Port Harcourt, he could attest to the transformation of the city under Wike, who he said has delivered on his promises to people of the state.
He described Wike as a shining example of the Peoples Democratic Party (PDP) governors and urged those seeking political office to be determined to work for the people and remain humble.
Diri further said that Rivers and Bayelsa were one and urged people of both states not to allow anyone break their bond.
He expressed delight over the show of appreciation by people of the area, stressing that their gesture will inspire public office holders to do more.
His words: "It is with joy I accepted to come and inaugurate this project. Governor Wike has simplified governance in Nigeria.
"Most of us who lived in Port Harcourt before now will miss our way when we come in because the governor has worked hard. He has set a high bar in governance in Rivers State. Those who want to take over from him should think and pray for double of his anointing.
"Rivers and Bayelsa are one and the same. Nobody can break the bond. We must continue to be brothers and sisters.
"I like to appreciate the people for coming out to say thank you even though this is what the governor should do.
"In governance, the number one thing is humility. Don't go with pride. God humbles the proud.
"I knew the state of this road. Why won't the people come out en masse? I told the governor that he has left a legacy here and I wish you more successes."
Earlier, Governor Wike thanked his Bayelsa counterpart for honouring the invitation of the state.
He commended Diri's performance in office and said he is doing very well in just his first tenure delivering projects to people of his state.
Wike further said development was the hallmark of the PDP and called on people of the country to support the party at the federal level in 2023 to experience all-round development.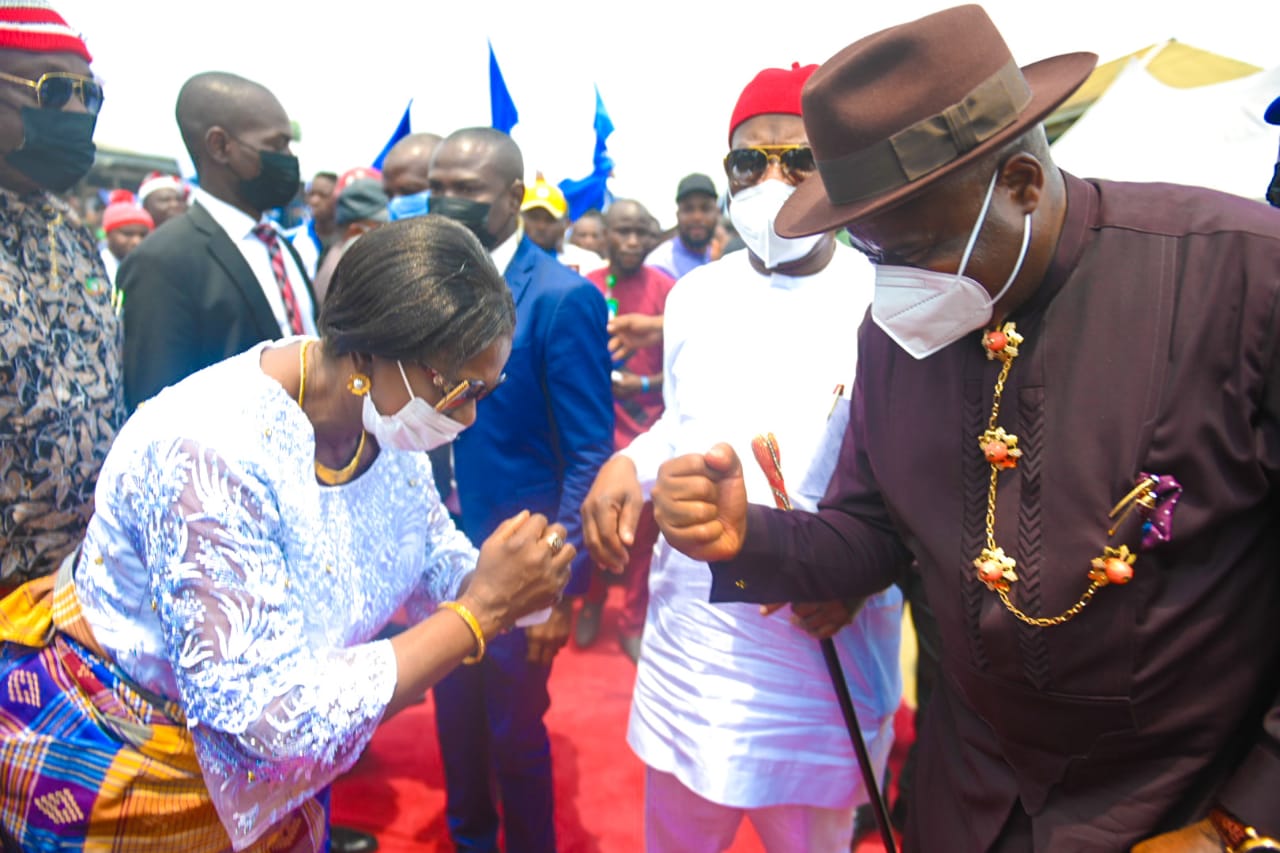 He said politics was no longer about making promises but fulfilling them, saying his administration has delivered on its promises to the people of the area and state at large.
Wike said the road, which is concrete, would be asphalted with street lights, stressing that the people of Mgbuoshimini and Nkpor have been very supportive of his administration and it is only proper for him to repay them with development.
He added that the state had achieved much in infrastructure development and would soon shift focus to social welfare of the people.
The Rivers helmsman called on members of the opposition in the state to join the PDP, which he said is bringing development to them.
"You must hold elected officers accountable. Politics is no longer about making promises. I am happy that PDP made promises and it has fulfilled them.
"We are overwhelmed by the level of appreciation the people have showed. I am happy that PDP made a promise to the people and it has fulfilled it.
"I said yesterday we have done a lot of infrastructure. There is no local government that will say we have not done something for them. So we are now going into stomach infrastructure and social welfare.
"The way Governor Diri is working, when you go to Bayelsa you will never believe what a first term governor is doing. This is your campaign for second tenure and I urge you to continue.
"That is why I called you to also come and see what we are doing. It is only in PDP that governors are performing."
In his welcome address, the Commissioner for Works, Mr. Elloka Tasie-Amadi, said the state of the road was very terrible before its construction and expressed appreciation to Governor Wike for actualising the project.