"This historic bridge has been on from the days of Eastern Nigeria. It has been in the drawing board, but it was given flesh by one of your sons, His Excellency Chief Timipre Sylva, who is now a Minister, and thereafter, the bridge was yet to be attended to until our administration came in.
Our government brought to light this historic infrastructure that will help heal wounds, this will not just be a physical bridge, but also spiritual bridge particularly between the brothers of Ogbolomabiri and Bassambiri.
Today, we are here with no lesser personality than the immediate past president of Nigeria, His Excellency, Dr. Goodluck Ebele Jonathan, who graciously accepted to be part of history.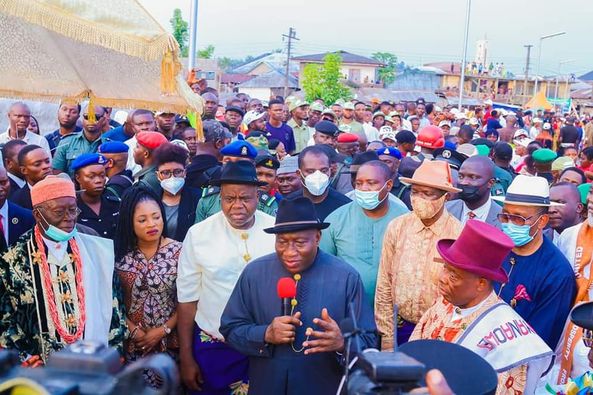 Let us note that wherever there is war, development suffers, so it is a glorious sight today that we have both Kings of the same Nembe to witness the commissioning of this project."
~Sen. Douye Diri, Governor of Bayelsa State, speaking, during the official commissioning of the Nembe Unity Bridge by His Excellency, Dr. Goodluck Jonathan, GCFR.