His Excellency, Senator Douye Diri, Governor of Bayelsa State visited the ancient community of Odioama in Brass Local Government Area of the State to empathise with them on the environmental disaster of sea encroachment that has befallen the community.
After he was conducted round some affected places, Governor told the people that the State Government is making immediate intervention to prevent further damage to infrastructure.
The Governor who noted that though the scope of the work is beyond the State Government, "we must take our destinies into our hands."
"There is hope for our people. The sea encroachment which is the perennial problem of Odioama will now begin to have a solution from your State Government. Be rest assured that your Government will be shoulder to shoulder with you to tackle this encroachment that is hitting our land and our houses."
So we call all our developmental partners to join the State Government to keep Odioama safe not only Odioama, we have the same instances in Koluama, Sangana. So we have so much to do which is beyond the scope of the State Government."
Governor Diri who also described his visit as apolitical said, he is committed to the development of the State, stating that Bayelsa is beyond APC or PDP but good governance.
"And as Governor, I am committed to developing Bayelsa State that is why I am here today. I am not here to campaign, I am not here to talk about PDP or APC.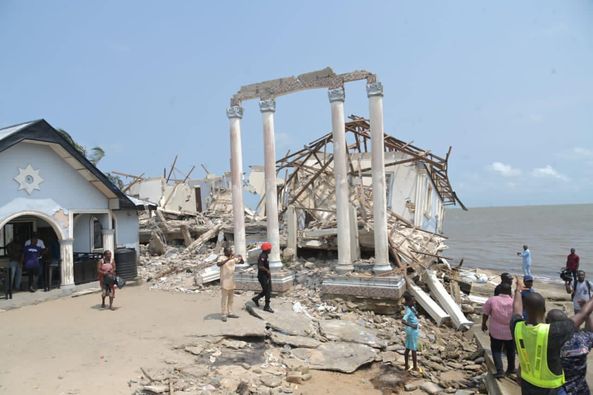 In my politics, I don't look at PDP or APC, I look at friendship, I look at brotherliness. And if you watch Bayelsa now, Bayelsa is no more just APC, PDP. Bayelsa is talking about good governance, a governance that can make the people come together, a governance that can unite our people, and a governance that can bring peace and security to our communities. And that's why you will even see people from the other side saying that, well, at the Federal level, I am APC but in the State here, the Governor has to continue. So, in Bayelsa State is beyond APC or PDP, in Bayelsa State is good governance," Governor Diri stated
The Governor also directed the immediate renovation of the Primary Health Care, the renovation of the Corpers Lodge, completion of community pavilion and the installation of solar lights in the community.
Other commitment made by the Governor include provision of fishing nets for the fishermen and women.
In the entourage of the Governor were Senator Nimi Barigha-Amange, Hon. Henry Ofongo, Speaker of the Bayelsa State House of Assembly, Rt. Hon. Abraham Ingobere, Commissioner for Lands and Housing, Hon. Esau Andrew, Commissioner for Works and Infrastructure, Moses Teibowei, Hon. Solomon Agwana, Chairman People's Democratic Party (PDP) Bayelsa chapter, Irorodamie Komonibo, Principal Secretary, Government House, Hon. Peter Akpe (PhD), Acting Chief of Staff, Government House and other top Government functionaries.