Governor of Bayelsa State, His Excellency, Senator Douye Diri has received the Senate ad-hoc committee on the East-West road, in Government House, Yenagoa.
The committee led by Senator Abdul Ningi is on tour of states in the South-South to ascertain the level of work done on the East-West road, and to find out cause of delay in the completion of the road project.
Notable among members of the committee received by the governor include, Senator Adams Oshiomhole, Senator Barry Mpigi and Senator Osita Izunaso.
Governor Diri who congratulated the president of the Senate, Senator Godswill Akpabio and all senators elected into the 10th Senate, also stated that the Niger Delta has been abandoned for too long.
He however, expressed confidence in the Senators' ability to take the assignment given to them seriously.
"First, I want to congratulate the President of the Nigerian Senate, Senator Godswill Akpabio, and all the Senators elected into the Tenth Senate of the federal republic of Nigeria.
Let me on behalf of the government and people of Bayelsa State, welcome you.
In one of our National Economic Council meetings, we talked about the deplorable state of federal roads in Nigeria , and the East-West road was part of it, and at the end of the day, the Vice President who is our chairman directed that every zone should come with one federal road that the government can immediately attend to. For us who are the Governors of the South-South, it was unanimous that the only road which traverses the whole of the South-South States was the East-West road.
I am very sure that this assignment is one that you have taken very seriously. Let us use our offices as Senators or which ever office we find ourselves to bring peace and development to our country. Let us deemphasize those things that divide us, and emphasize on those things that will bring us together.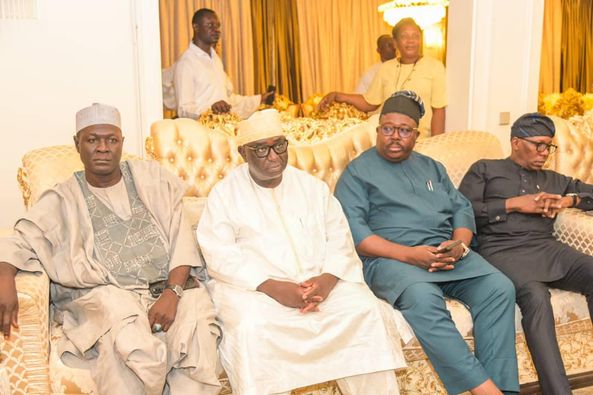 The Niger Delta has been abandoned for too long, because you cannot explain that an East-West road has been under construction for decades, and it is still ongoing. Because of the flood last year, Bayelsa was cut off from the rest of the country, and up till now, those parts that were damaged on the Rivers State axis and the Delta State axis has not still been fixed.
This ad-hoc committee is very timely. There is so much work to do by the federal and state governments. I call on the federal government to speedily complete the East-West road," Governor Diri stated.