It's Prosperity 2.0
Today, we spotlight the achievements of the current administration on massive road infrastructure in the past three years in office.
The newly constructed dual carriage Glorydrive from Ecumenical Centre to the Tombia/Amassoma road unarguably remains the single most flamboyant road in Bayelsa State today. Kudos to the Prosperity Government.
Conscious of the need to open up many areas with roads, the current administration embarked upon massive road construction to the admiration of the people.
Several communities which were hitherto accessed only by water have now been linked by roads and this development has reduced the travel time, reduce cost of traveling and opened the affected communities to new economic opportunities.
From Sagbama-Ekeremor road to Yenagoa-Oporoma-Ukubie road to Igbedi road and others, the people are heaving a sigh of relief.
Several bridges have been constructed along some of these roads to strengthen most of the roads- six bridges along Sagbama-Ekeremor road, Aguobiri bridge along Yenagoa-Oporoma-Ukubie road, the Angiama-Oporoma bridge across River Nun is ongoing and some bridges along the new Glorydrive for easy passage of water.
The Glorydrive and the ongoing Igbogene-AIT/Elebele Outer Ring Road will open up the State capital, Yenagoa. These two roads and other internal roads are part of the urbanization plan of Yenagoa.
There are several other completed and ongoing road projects and bridges in different parts of the State- Nembe Unity bridge, Elebele bridge, Isaac Boro Expressway, Onuegbum-Otuoke road, Akaba-Agbura-Ogu-Okodi road linking different riverine Ogbia communities, Toru-Orua-Bolou-Orua-Toru-Ebeni-Amatolo road and several internal roads in various communities and the State capital.
The commencement of the abandoned historic Nembe-Brass road currently undergoing sand filling has endeared the government to the people of Nembe in the Bayelsa East Senatorial District. This road connects the people to the sea to tap into the blue economy. This road connects people to Brass NLNG, Brass Fertilizer and Agip Oil Terminal.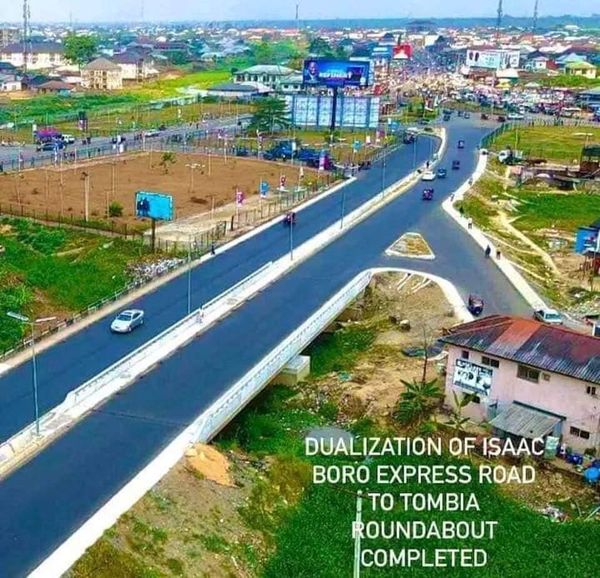 The Prosperity Government is very deliberate leading the current road revolution which is opening up the state for industrialization and investments.
This government is strategic and focused. And that is one key reason majority of Bayelsans are backing the second term agenda.
Governor Douye Diri and Deputy Governor, Lawrence Ewhrudjakpo, truly deserve another term in office. Let's support this aspiration for continuity and consolidation of various achievements toward the advancement of Bayelsa State.