… gifts them cash prizes, direct Sports Commissioner to build basketball courts for both schools
… calls on Bayelsa youths to legitimately eke out a living
"I have been reliably informed of your basketball courts. I hereby direct the Honourable Commissioner for Youth and Sports to construct a basketball courts in both St. Jude's Girls and Bishop Dimeari Grammar Schools, and the construction of these two courts are with immediate effect.
And for the players that have made us proud, for each of the players from St Judes and BDGS, they will go home with N100,000.00 each. And coach Tony will go home with N300,000.00 and the coordinator will go home with N200,000.00. The man with the miracle shots and the Most Valuable Player (MVP) will receive additional N50,000.00 each. And for the school administration that has so impressed this government, both schools will also go with N500,000 each.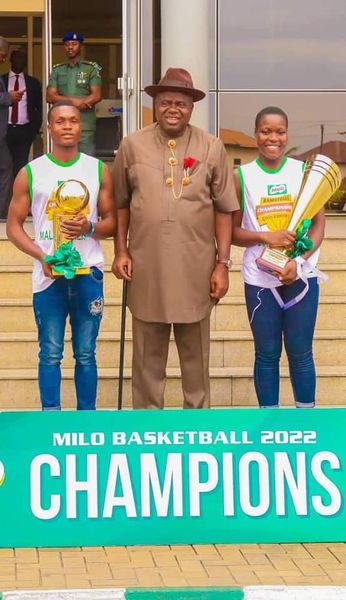 And for Tony Nelson, who I have been reliably informed has been employed by the sports council, and because you have been employed by the sports council, I hereby direct his promotion by one level with immediate effect. And every other coaches will go home with N150,000.00 each.
This is what your state government is doing to motivate you and to appreciate you that there is always honour and dignity when you are successful.
And this I am sure you will be role models to our youths out there, that there are other very legitimate avenues for you to make money and be disciplined and to become a star to be celebrated by others.
And you don't need to make your life useless with drugs, you don't need to make your life useless by been a political ponds for irresponsible politicians.
This is the way to go. Be involved in legitimate and constitutional ways to eke out a living.
I call on our youths in Bayelsa to see this success and this successors as role models."
~Sen. Douye Diri, Governor of Bayelsa State, speaking when he received the two victorious basketball teams during the 81st State Executive Council Meeting, at the Exco Chambers, Government House,Yenagoa.