Bayelsa State Governor, Senator Douye Diri, has commended Rotary International for its humanitarian intervention programmes.
Senator Diri gave the commendation on Friday when he unveiled its beautification project at the Opolo roundabout in Yenagoa, the state capital.
He described the gesture of Rotary International as heartwarming and highly commendable, noting that the project had enhanced the aesthetic beauty of the area.
He said over the years, Rotary had made significant contributions toward impacting positively on people's lives in various ways across the world and urged the organization to continue to partner with government to provide more people-oriented projects.
Senator Diri explained that he had directed the Commissioner for Works and Infrastructure to take action concerning the roundabout to curb the incessant vehicular accidents around the area, stating that he however granted approval to the Rotary Club upon its request to embark on the beatification project.
According to him, "it is heartwarming to see what Rotary International had done to change the face of the Opolo roundabout. I had earlier directed my Commissioner for Works and Infrastructure to take action about the roundabout as a result of the incessant accidents in the area.
"But I was later informed that the Rotary Club wanted to do something to beautify the roundabout and had requested for approval. Without wasting time we gave the approval. And today, we have the face of Opolo roundabout changed."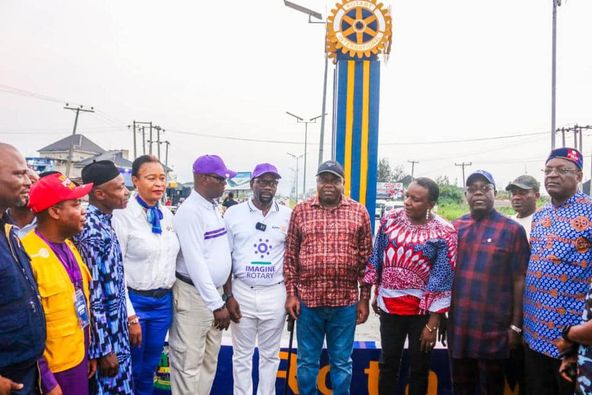 The governor also expressed gratitude to Rotary International for electing a son of Bayelsa as one of its District Governors.
Earlier, the new Governor of District 9141, Mr Mightyman Aye-Dikuro, which jurisdiction covers Bayelsa, Edo, Rivers and Delta states, said the project was borne out of the need to reduce carnage at the roundabout, especially at night.
He further stated that the project was initiated to complement government's urban renewal programme and appealed to the state government to undertake the construction of speed breakers about 30 metres to the roundabout to ensure safety of lives.
Mr. Dikuro applauded Governor Diri on behalf of the Rotary President for what he described as his generous donation to the Rotary Foundation.