The Bayelsa State Governor, Senator Douye Diri has assured small- Scale business owners of Government assistance.
The Governor gave the assurance while flagging off Women Empowerment programme tagged; "Women and Youths Empowerment Programme," in Yenagoa.
He noted that the Prosperity Administration is commitmented in boosting the economy of the state through Small and Medium Scale Enterprises as they are directly connected to the grassroots. Adding that the Empowerment Programme will be by picking two business owners per ward, across the 105 wards and assisting them with the sum of Two Hundred Thousand Naira (N200, 000) monthly, till the end of the Prosperity Administration.
Speaking during the Flag-off ceremony, the Chairperson of the Committee and Commissioner for Women, Children Affairs, Empowerment and Social Development, Mrs Faith Opene, who spoke on behalf of government, urged the beneficiaries to make good use of the money to boost the economy of the state.
Mrs. Opene said, the programme is to encourage those that are already in business across the Eight Local Government Area to grow their businesses.
She pointed out that government will empower one man, one woman across 105 Wards in the state, with Two Hundred Thousand Naira (N200,000), coming to a total of two hundred and ten Small-Scale business owners.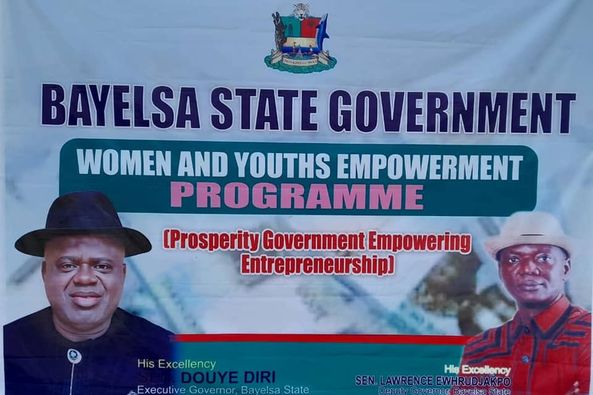 Also speaking, the Commissioner for Education, Hon. Gentle Emelah said, the essence of the programme is to boost the local economy of the state, as well as to ensure Bayelsans own the local economy.
Responding on behalf of the beneficiaries, Ms Ebomotimi Waripamo appreciated the government for the great feat to empower Small-Scale business owners across the state.
Ms Waripamo who is a baker said the money will go a long way to grow her Bread (Madiga) baking business.
Members of the Empowerment Committee are:
– Mrs. Faith Opene (Chairman)
Commissioner for Women Affairs
– Mrs. Eunice Akene (Secretary)
S.A Poverty Alleviation
– Hon. Peter Akpe (Member)
Acting Chief of Staff Government House
– Hon. Gentle Emelah (Member)
Commissioner for Education
– Hon. Ayiba Duba
Commissioner for Information, Orientation and Strategy
– Hon. Daniel Igali
Commissioner for Youths and Sports
– Hon. Federal Otokito
Commissioner for Trade and Investment.