… Charges them to bring crime and criminality to the barest minimum
The Governor of Bayelsa State, Sen. Douye Diri today met with the new security commanders posted to the state recently.
They are the Flag Officer Commanding(FOC) of the Nigerian Navy, Rear Admiral USA Chugali, the new Air Officer Commanding(AOC) of the Nigerian Air Force Mobility Command, AVM TO Yusuf and the new Commissioner of Police (CP), Tolani Alausa.
The governor who welcomed the new security heads separately at the Governor's Conference Hall, in Government House, Yenagoa, briefed them of the peculiar security challenges in the state and how they can best make Bayelsa crime-free.
Gov. Diri also called for synergy among various security agencies and the State Government in order to bring crime and criminality in the state to the barest minimum.
"For the Navy, I believe that you are going to contribute and add value to this State and by extension Nigeria.
I hope and believe that you will synergize with our sister security agencies to continue to keep the peace.
As a government, we will always support you, and collaborate with you in our maritime domain particularly, to fight the challenges of oil theft, environmental degradation and others.
"We thank the Air Force for their help during last year's flood, and we are hoping that if it happens again, this new leadership will do better.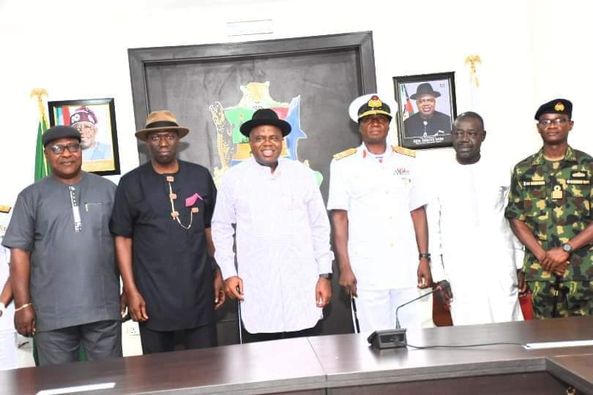 Bayelsa State is one unique State, and so the Air Force will play a key role in keeping the peace and reaching out to our rural communities in the State.
Even in the forthcoming elections, I'm even of the opinion that INEC should involve the Air Force in air-lifting sensitive electoral materials to key areas in Bayelsa State and returning of same after the elections, to make it easier and faster due to our riverine domain.
"The Nigerian Police Force is the lead internal security agency, and everything about the security of this State falls squarely on your laps.
And so, I charge you to do your best in ensuring that our state is free of crime and criminality.
This government is passionate about having a crime-free Bayelsa, and that is why we are engaging a lot of our youths in sports, entrepreneurship and others", Governor Diri stated.