"Our presence here today is to lay the foundation of Diri Industrial Skills Entrepreneurial and Training Scheme (DIETS), the unavailability of white collar jobs is the leading cause of many social ills in our society today, particularly among our youths.
As you have heard from our various speakers including the Honourable commissioner and Dr. Roselyn Dressman, DIETS will be responsible for bringing out the best in our youths and lifting many from shackles of poverty and unemployment.
It will create windows of opportunities for our youths to become self sustaining and professionals and free up the congested labour market and the elusion for seeking none existing jobs.
Only yesterday in furtherance of the new trust for education, I declared open the first Bayelsa State Education Summit, it's planned to fashion out a 15 year educational Road Map that will bring our youths with the rapidly evolving and changing world that depends on the workplace.
"Going forward it's to train our children in Science Technical and Vocational skills that will open up alternative vista of opportunity on sustainable and honest livelihood. That's why we are building and equipping technical and Vocational school in all the 8 local government areas of our state.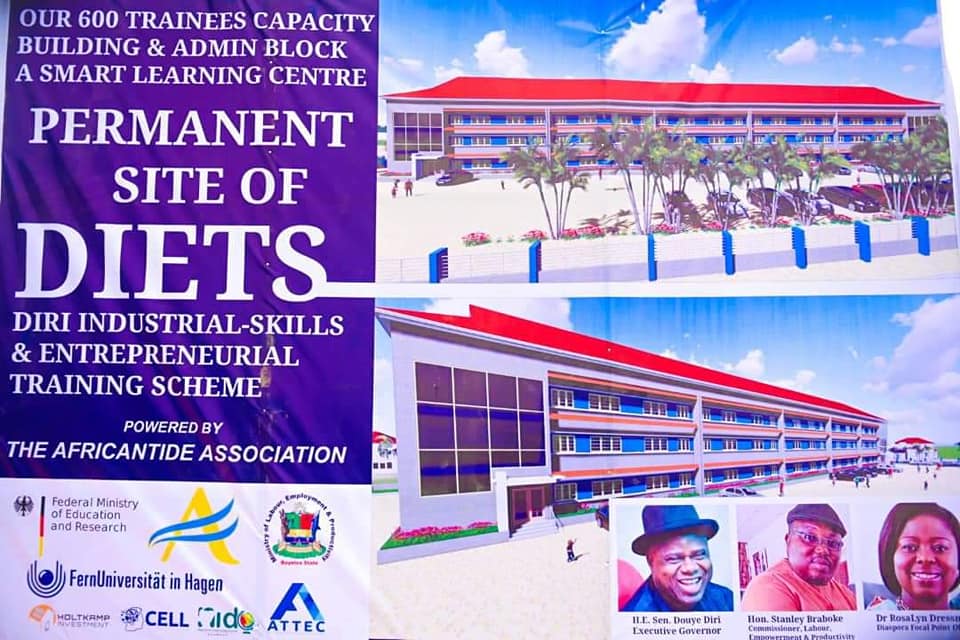 The youths are the leaders of tomorrow, can the youths be our leaders when they are not given the opportunity and prepare the way for them to become the Leaders of tomorrow?"- Senator Douye Diri, speaking during the foundation laying of Diri Industrial Skill Entrepreneurial and Training Scheme (DIETS), at Opolo. Yenagoa with the Deputy Governor, Senator Lawrence Ewhrudjakpo and other top government officials in attendance.