Fisayo Dairo
Published December 21, 2022
Gov Douye Diri was among top global sports dignitaries that witnessed the FIFA World Cup Qatar 2022 grand finale in Lusail, last weekend and during his stay in the Gulf Nation, he spoke to www.aclsports.com on his government's strides in sports development.
It was about 3:05pm local time but the Governor, in his character was dressed and ready for the third place playoff between Morocco and Croatia which would only kick-off at 6pm. When I asked him; "but the match is for 6pm Sir?"
"You people thought we politicians are latecomers? It is not always like that o, and with some of us, we know that time is money," Gov Diri replied leading to general laughter.
Dressed in a simply formal white shirt and black trouser with a black blazer top, the Governor seemed to be enjoying every bit of the serene atmosphere at the garden of the Fairmont Hotel in Lusail City where his hosts, FIFA had him lodged.
Diri is not just your regular state helmsman, but a true sports lover. He had served as a Commissioner for Sports in Bayelsa State before and his love for Sports has reflected in the upturn of performances/results for Bayelsa State teams within the three years of his administration.
What Sports means to Gov. Diri
Bayelsa State had just produced one of their best performances ever in the history of Nigeria's National Sports Festival when they finished second on the overall medals table at the close of events in Asaba, Southern Nigeria earlier this month.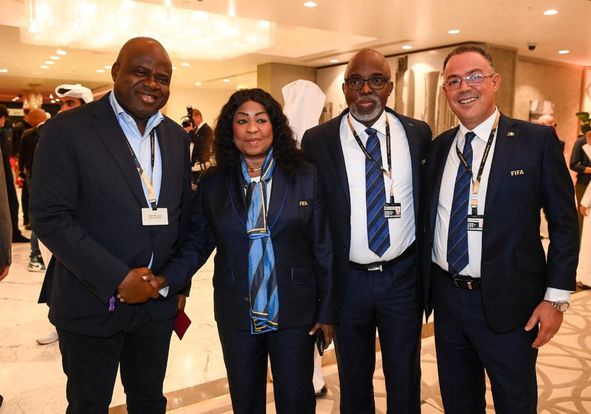 That feat cannot be deemed a coincidence as Bayelsa State owned football clubs had also excelled nationally and internationally within the past 24 months.
"For me, Sports is one aspect of youth development and a very serious aspect of it," began Diri when asked the motive behind his government's support for Sports.
"We talk about youth restiveness in our region in particular and I think that one of the sure ways to get our youths to not just being busy but living legitimately is via Sports and having been a Commissioner of Sports myself, I know the benefit in Sports.
"Sports is one huge industry in the world over today and I believe that whatever we are doing is one sure way of getting the youths out of the ills they may be doing and harnessing their positive talents for the greater good of our society," he added.
More programmes and private sector involvement
If there was anything very evident during the 30 minutes aclsports.com spent with the Governor, it was his eagerness to have the private sector fully involved in sports in his state; something he described as the norm everywhere but in Nigeria.
Diri is however confident he will break the seeming jinx of private sector involvement to further enhance the capacity of Bayelsa State in Sports development as his government continue in their series of talent-harnessing schemes.
"Before I assumed office as Governor of the state, there was a Governor's Cup (competition) and now we are continuing with that Cup and tagged it the Prosperity Governor's Cup.
"It is a way of talent hunt and we have gotten a lot of raw talents across the length and breadth of the state. Besides this, we have also introduced the state's annual sports festival. This we are not going to do alone, we want to partner with the private sector.
"What we intend to do and what we have started doing is to actually get the private sector in Bayelsa state to partner with government to ensure that we have this annual sports festival where we will introduce it to all the Local Government areas in the state and use that as a springboard for the National Sports Festival," Diri highlighted.
Lessons from Qatar in infrastructure
For everyone that attended the just concluded FIFA World Cup Qatar 2022, it was easy to see in their infrastructure, the result of willingness and commitment to produce a show that guests would love to associate with.
The Lusail Iconic Stadium, venue of Sunday's final was constructed between 2017 and 2021 and hosted ten matches, the most by any venue in the competition. Built with state-of-the-art technology which gulped over $700m, the Lusail Stadium will make even the most modest of men envious.
Back home in Bayelsa state though, the Sports complex in Ovom is the state's solitary sporting arena.
"While I must note that the Samson Siasia stadium was given a facelift particularly when Bayelsa United qualified for the continental competition, you're very right.
"That is about the only sporting facility we have in Yenagoa. Recently I had an interview back home and alluded that because of the way the state is going in terms of Sports, we may be thinking about a new modern stadium and I had a lot of reactions from the social media and other concerned persons who believe that should not be our priority but for me, it is a priority.
"Bayelsa is now at the top of sporting states in Nigeria. In Asaba, the only state we could not catch-up with was the host state Delta who have been in the saddle of being first in the festival since even when I was Sports Commissioner.
"Our plan is to topple Delta in the near future and for us to do that, we must improve on our sporting facilities. We must add new sporting facilities and although it also depends on our resources but I can assure you that getting new sporting facilities to encourage our sportsmen and women is in our plans," he concluded.
With the Governor already back home now and back at work even in the middle of the yuletide, it will be interesting to see how well Qatar has truly motivated him through his government's next set of policies and action, a second term in office permitting.
*Fisayo Dairo was in Qatar for the 2022 FIFA World Cup