*State Most Impacted in Nigeria, Diri Insists.
The United Nations has described the flood disaster in Bayelsa State as a crisis of major proportion that deserves attention.
The UN Resident and Humanitarian Coordinator in Nigeria and Representative of the Secretary General, Mr. Matthias Schmale, stated this on Saturday when he led a delegation comprising officials of the global body, the World Health Organisation and the Federal Ministry of Water Resources on a courtesy visit to Governor Douye Diri in Government House, Yenagoa.
A statement by the governor's Chief Press Secretary, Mr. Daniel Alabrah, quoted Schmale as likening the Bayelsa situation to the Pakistani floods that attracted global attention.
The UN Coordinator, who had on Friday accompanied Governor Diri on his tour to some flood-impacted communities in Southern Ijaw Local Government Area, said his visit was a response to the letter from the governor and called for attention to address the devastating effect of the flooding.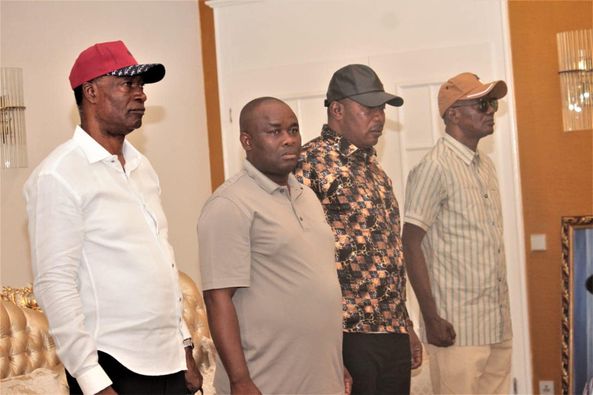 Schmale commended Governor Diri for his commitment in visiting flooded communities in the state, noting that what he witnessed required both material and moral support.
He also stated that the UN will advocate and mobilize resources for the recovery phase to enable victims return to their normal lives.
Schmale stressed that it was disheartening that lives, livelihoods and assets had been lost to the flood and called on the federal government and the international community to join hands to support what was left of the immediate response and recovery phases.
His words: "Thanks for allowing the team and I to join you and your team on the visits you are conducting around flood-affected communities. The first thing I will share publicly is that this is a crisis of major proportion.
"What I saw yesterday reminded me of the images I saw of Pakistan a few months ago and the world took note of that. A third of Pakistan, the size of the United Kingdom, was under water. The images reminded me of that.
"We need to be very clear. This is a crisis of major proportion that deserves everyone's attention.
"Secondly, my respect to you and your team and, of course, your deputy governor. I think it takes considerable commitment to now be in your third week of visiting flooded communities, which I have not seen anywhere else.
"What I saw yesterday was that you were not only providing material aid to communities but also moral support. I could see the way you and your team were received. There were signs and glimmers of hope around people's faces and we should not underestimate that. Obviously, this is still immediate response phase and outlined some of the immediate needs.
"I think the next would be recovery and we will think through with United Nations team what we can do to advocate and mobilize resources for the recovery phase as people are able to get back to their normal lives."
Schmale noted that the cause of the present disaster was climate change and that it would be the responsibility of the UN Secretary General, Antonio Guterres, to speak emphatically during this year's Climate Conference in Egypt about the need to invest in mitigation and adaptation measures.
He averred that Nigeria and Bayelsa were not the main cause of climate change. Therefore, there was a moral case to be made for compensation as they are both on the receiving and not the causing end.
Responding, Governor Douye Diri thanked the UN Secretary General for sending his Rep to the state at a time it was in need of help.
Diri praised the UN for being the first to respond quickly to the situation in Bayelsa.
The governor also appreciated the UN Rep for embarking on a tour of flooded communities with him and for affirming that Bayelsa was the worst-hit state in this year's flood in the country.
He asserted that there was a clear difference between sitting in Abuja and coming personally to feel the impact and pains of the people, which the UN had demonstrated.
He said: "Let me first say that I am humbled by your comments. At a time that we need help, I think you have been divinely sent here. We wrote those letters not only to the United Nations but to several others, including our country's president. But you are the first to respond to our call. We appreciate you as a state government, as a people and as the Ijaw ethnic nationality.
"Let me also appreciate the Honourable Minister of Water Resources for permitting the Permanent Secretary, our own daughter, Dame Didi Walson-Jack, to be part of this entourage.
"We are not fighting the federal government. The federal government is our father and at a time that your son or daughter needs help, we expected that they will be there for us.
"It would have been okay for you to just fly into Yenagoa and hold this meeting and return. But you decided to feel and see things for yourself. But for flight delays, you would have seen several more because we went to nine communities on Friday.
"From what you have said, it is very clear that you are satisfied with the fact that Bayelsa State is the most impacted state in this 2022 flooding in Nigeria."