…return home as champion
"Today, from the Bayelsa State Sports Council, and the Ministry of Sports, I have received a Torch of Unity, signaling the participation of Bayelsa State contingents in the forthcoming National Sports Festival holding in Asaba. Let me use this opportunity to thank the Honourable Minister of Youth and Sports Development and the ministry officials for dutifully discharging and encouraging unity and peace in our country.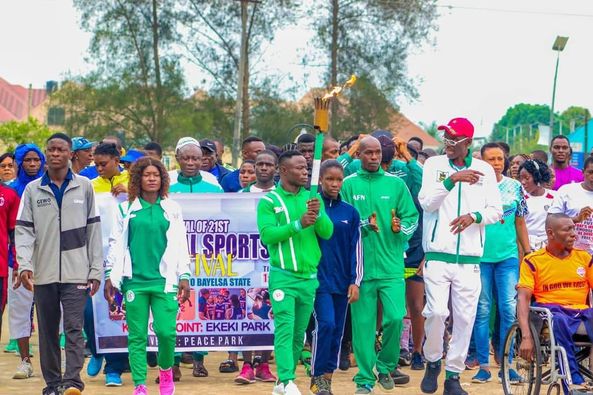 And I hope and believe that sports is one arena that has actually brought Nigerians together, not minding their religion, ethnicity, and sports will continue to play that role in the years to come.
At Asaba, I want to also call on all our very athletic sports men and women who will represent this state, in Edo you came third and you have promised that at Asaba it will be higher, so I charge you as you go there to display the virtues of understanding, oneness, of peace, and sportsmanship.
Go and compete favourably, and ensure that you come back with the trophy to Bayelsa State, and ensure that Bayelsa will remain as the best sporting state in the annals of Nigeria. Your government will keep supporting you."
~Sen. Douye Diri, Governor of Bayelsa State, speaking, while receiving the Torch of Unity, at the Peace Park, Yenagoa, Bayelsa State.