….. thanks media aides for a great work
…..urges media practitioners to stop cyber bullying, work with facts
Governor Douye Diri today unveiled "Prosperity 2.0" a new media campaign to boost his re-election bid.
At the official launch of the logo today, Gov. Diri in company of the Deputy Governor, Senator Lawrence Ewhrudjakpo, appreciated the Government New Media team and other social media influencers for the initiative to showcase the numerous projects and programmes of his administration.
The Governor who said he is confident of victory in the forthcoming election, charged the social media personnel to operate within the rules.
"I urge Social Media users to be authentic. There are too much lies, half-truths and prevarication in the social media, and I don't want you as Government practitioners to also be in that group. There is so much of fake news in the social media, and I know you are not part of those peddling it.
Let us refrain from hate and cyber bullying. As Social Media aides, as you work for the government and people of Bayelsa State, we will continue to keep our eyes on you. I want to thank you profusely for all you are doing to promote our government, and I like to urge you to do more.
This has been a very good session, and whilst we are yet to commence the formal campaigns with what we have unveiled today, I release you to now start the social media campaigns for your government and for the people of Bayelsa State.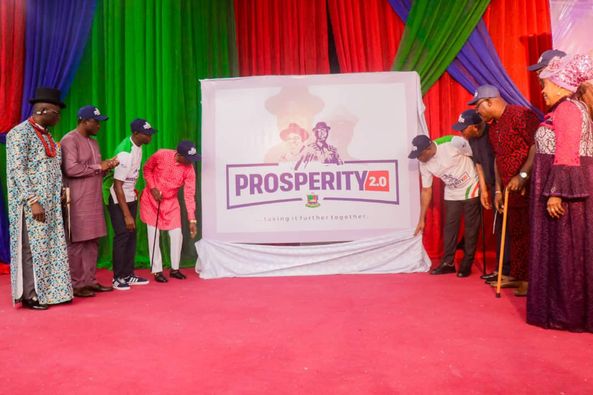 This government is not involved in drugs, but it is fighting drugs, this government is not involved in youth restiveness, but wants to empower our youths, this government is not saying that the road to Brass is of no economic value, but it is constructing road to Brass, this government wants to make sure that our living standards as Bayelsans are improved. For us, you are the foot soldiers, and don't keep quiet when your government is being misrepresented", Gov. Diri stated.
Social media entrepreneur and facilitator, Harry Porbeni, delivered the theme session on: The New Media Paradigm: A gateway to Prosperity.
Other dignitaries at the event include Hon. Solomon Agwanana, Chairman, People's Democratic Party, Bayelsa State chapter, Rt. Hon. Edwin Monday Obolo, Leader of the State House of Assembly and other members of the State House of Assembly, Alabo Gideon Ekeuwei, Secretary to the State Government, members of the state executive council, Dr. Peter Akpe, Acting Chief of Staff, Government House, Mr. Irorodamie Komonibo, Principal Executive Secretary, Government House, HRM King Bubaraye Dakolo, AGADA IV, Ibenanaowei of Ekpetiama Kingdom and Chairman, Bayelsa State Council of Traditional rulers and other top government officials.