… embraces collaboration, calls for completion of East-West road
His Excellency, Senator Douye Diri, Governor of Bayelsa State today received in a courtesy visit the Minister of Niger Delta Development, Engr. Abubakar Momoh in Government House, Yenagoa.
The visit was geared towards giving priority attention to developmental projects in the region, particularly, the East-West road.
"It is our plea that with a new President of the Federal Republic of Nigeria and we believe that priority attention will be given to the East-West road. So, Honourable Minister, please carry our message to the president that we urgently need the fixing of the East-West road.
Let me also thank Mr. President, using this opportunity, for your appointment because you are a son of the Niger Delta and we believe that you will do justice to the issues and challenges that becloud our region and our State.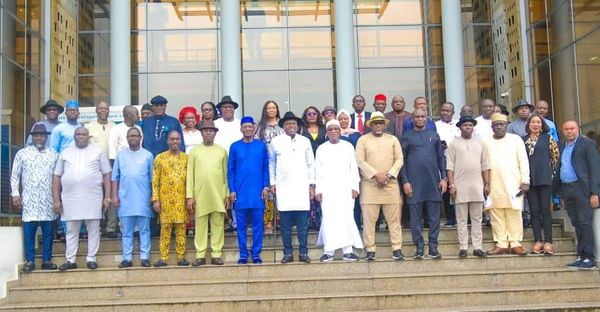 I will also bring to your knowledge that the Ministry of the Niger Delta is too far from the people of the Niger Delta. The people of the Niger Delta want to own and feel that Ministry as their own.
But the people are alienated in terms of budget preparation, policies and implementation. The people are asking for inclusiveness and we believe that your coming will stop this gap," Governor Diri stated.
Governor Diri also used the opportunity to thank the president for approving the appointment of Dr. Samuel Ogbuku, as a substantive Managing Director of the Niger Delta Development Commission (NDDC), who was part of the entourage.