Project commissioning: Gov. Oborevwori commissions Etegwe Bridge, Roundabout, Agilobi street
… Opens Prosperity Youth Coalition office
Bayelsa Governor, Senator Douye Diri alongside his Delta counterpart, Rt.Hon.Sherrif Oborevwori today inaugurated the Prosperity Youth Coalition Campaign office, the new Etegwe Bridge, the redesigned Etegwe/Edepie Roundabout and the Agilobi internal road project in Agudama-Epie, Yenagoa.
Governor Diri in his remark thanked Governor Oborevwori for coming to identify with the success story of his Prosperity Government.
"Today, I had the pleasure to welcome my dear brother Governor of Delta State, Rt. Hon. Sherrif Oborevwori, to Yenagoa to inaugurate the new Etegwe bridge and the redesigned Etegwe/Edepie roundabout.
Thank you for identifying with our success story," Governor Diri stated.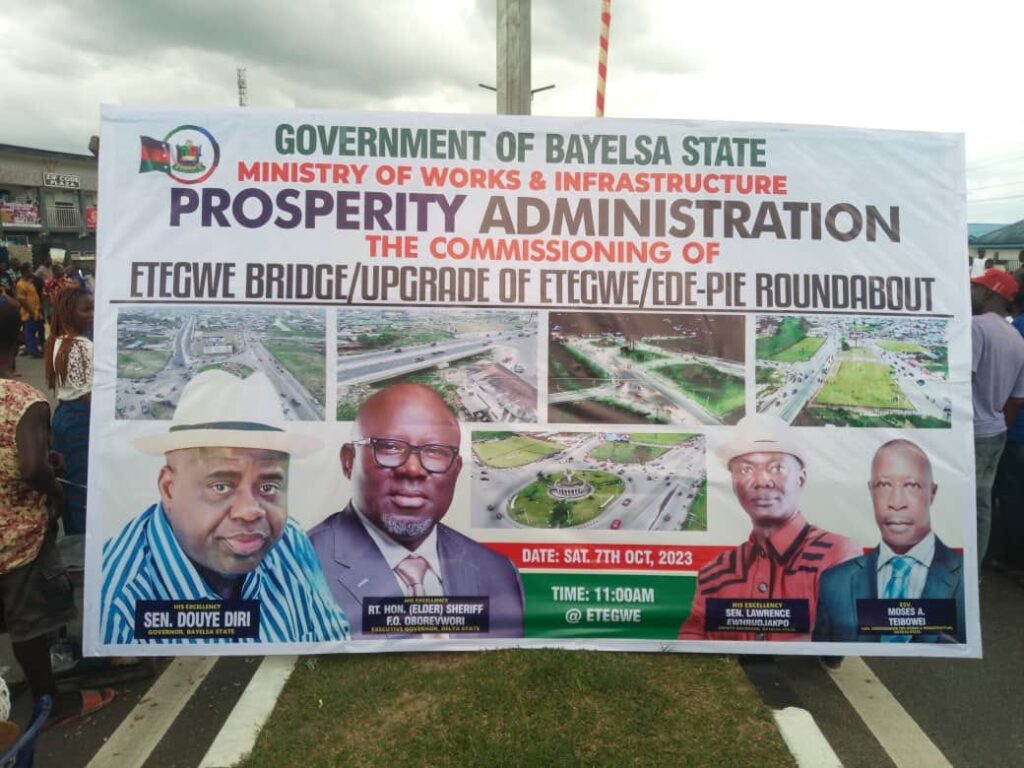 Earlier, Governor Sherrif Oborevwori of Delta State lauded Senator Diri for his remarkable projects having gone through the State to see the massive infrastructural development under the administration.
"Gov. Diri is a unifier, coming here today to witness the massive transformation in terms of development.
God brought you to govern the State so, no matter the fight, God will bring you back in your second tenure."
Also in attendance at the inauguration of the projects were Senators representing Bayelsa Central and East, Konbowei Friday Benson and Benson Sunday Agadaga, Rt. Hon. Fred Agbedi, member representing Sagbama-Ekeremor Federal Constituency, Hon.(Mrs) Marie Ebikake, member representing Nembe-Brass Federal Constituency, Hon. Mitema Obodor, member representing Ogbia Federal Constituency, Hon.(Engr) Rodney Ambaiowei, member representing Southern Ijaw Federal Constituency, Rt. Hon. Emomotimi Guwor, Speaker, Delta State House of Assembly, members of both Bayelsa and Delta State Houses of Assembly, Alabo Gideon Ekeuwei, Secretary to the state government, members of both Bayelsa and Delta State executive council and other top government officials.