*Gov Diri Calls For Violence-free Rerun Poll
Bayelsa State Government has taken over the medical bills of the victims of last Thursday's boat mishap at Okoroma community in Nembe Local Government Area of the state.
Governor Douye Diri, on Sunday, directed the Commissioner for Health to ensure that the state government picks the bill of hospitalised victims.
Speaking during the Easter Sunday service at the King of Glory Chapel in Government House, Yenagoa, Governor Diri, who sympathised with families that lost individuals in the boat accident, also directed the Health Commissioner to refund to survivors whatever they had spent on treatment.
His Chief Press Secretary, Mr Daniel Alabrah, quoted the governor as directing all relevant authorities in the transport sector, especially those in charge of the waterways, to ensure that all safety measures were duly complied with henceforth to avert another of such accident.
Governor Diri said his administration will not hesitate to sanction anyone found wanting in the discharge of their duties as government will no longer allow such avoidable accidents.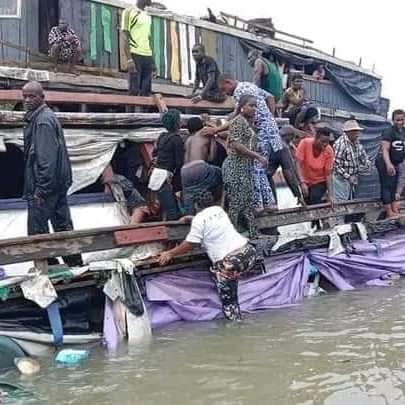 Speaking on the rerun House of Reps and House of Assembly polls for the Southern Ijaw Federal Constituency and Ogbia Constituency 2 respectively, the Bayelsa helmsman called for peaceful conduct of the elections, saying the events that led to the rerun must be avoided.
Diri remarked that in the spirit of Easter, politicians should see politics as a means to serve the people and not engage in actions that negate value for the lives of people they intend to serve.
He also urged politicians and their followers in the state to close ranks after the general election, stressing that Bayelsa can only move forward when there is unity and love towards one another.
His words: "No power could prevent Jesus from resurrecting and no power will hold anyone or Bayelsa State down.
"As you already know, for us as a government, it is about how we can live in peace and harmony. We have rejected cultism and it can never be part of us again. If we believe in the resurrection power, we must show love and sacrifice like Jesus and God did.
"My message is very clear. We have seen the resurrection and its power. Whatever that was dead in our lives, the power of resurrection will affect it.
"As Ijaw people, we live by the truth and we will indeed be set free. Elections have come and gone. Whatever our differences were, let us put them aside. It is time for reconciliation.
"The power of government is to do good, to be compassionate, to bring development and ensure peace.
"On April 15, we have rerun elections. Let me use this opportunity to again make this call. Our purpose is to serve the people. So, in this rerun poll, what led to it should not repeat itself. That was a bad publicity for Bayelsa State.
"I also call on INEC and the security agencies to do their job. Democracy is about the people and not politicians. Let us go as brothers and sisters to the rerun election. All I ask for as governor of this state is peace and for us to be civil."
Delivering a sermon, Chaplain of the King of Glory Chapel, Pastor David Yalah said the resurrection of Jesus is real and it gave hope to Christians that death will not always have power over them.